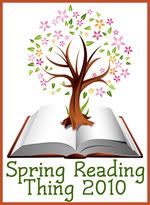 You may or may not have noticed, I like to read. ok, I love to read. Given the choice of a book or tv, the book wins - no contest.
I love to dive into a book for the first time, meet the characters and get to know them. I also enjoy reading a new book in a series where I know the characters but get to know them better.
I also love to reread a book, it is like meeting up with an old friend. Anne of Green Gables is a bosom friend of mine. I wish to console Elizabeth Bennet over Mr Darcy's treatment of her. The clicks of Madam Dafarge's knitting needles still send chills up my spine.
So with my love of books, it makes sense I would join a reading thing and luckily for me Caddapillar Days is doing a Spring Reading Thing.
I just need to come up with a list of books that I plan to read. Unfortunately I don't  do book lists well, I always have the best of intentions but I am easily distracted by a new/different book or author. I do usually finish a book before I get distracted and very rarely read more than one at a time.
That said, I will give a booklist a try
Fiction:
Here Burns my Candle – Liz Curtis Higgs

Deliver Us From Evil – Robin Caroll

Witness - Edward Lewis

Prophecy – Dawn Miller

Finding Jeena -Miralee Ferrell

Starlighter  - Bryan Davis

Darlington Woods - Mike Dellosso

Code Blue - Richard L. Mabry, MD

Morning for Dove - Martha Rogers

The Chosen Ones - Alister McGrath

Songbird Under a German Moon – Tricia Goyer

An Unwilling Warrior -  Andrea Boeshaar

Deadly Disclosures - Julie Cave

Glaen – Fred Lybrand

Sing – Lisa Bergren

A Flickering Light – Jane Kirkpatrick
Non-fiction & biography:
Real World Parents – Mark Matlock

Twilight Gospel – David Roberts

Bonhoeffer – Eric Metaxas
To read with the kiddos:
The Lightning Thief - Rick Riordan

Caddie Woodlawn – Carol Brink

Kingdom's Dawn – Chuck Black

Kingdom's Hope – Chuck Black

Kingdom's Edge – Chuck Black

Kingdom's Call – Chuck Black

Kingdom's Quest – Chuck Black

Kingdom's Reign – Chuck Black
Plus any other random books I pick up.
I am also going to see how I can drag my reluctant reader into this.
So what are you going to read?